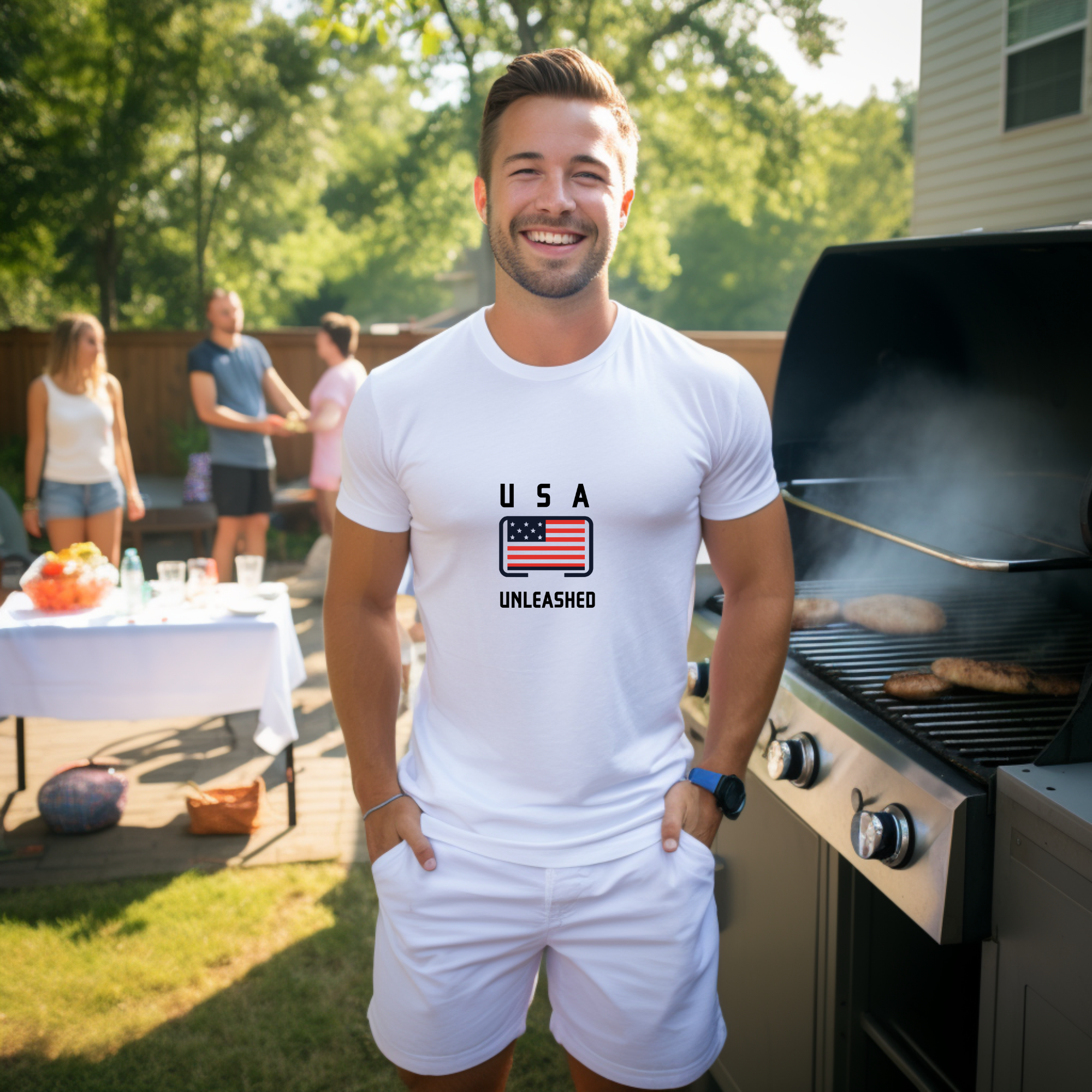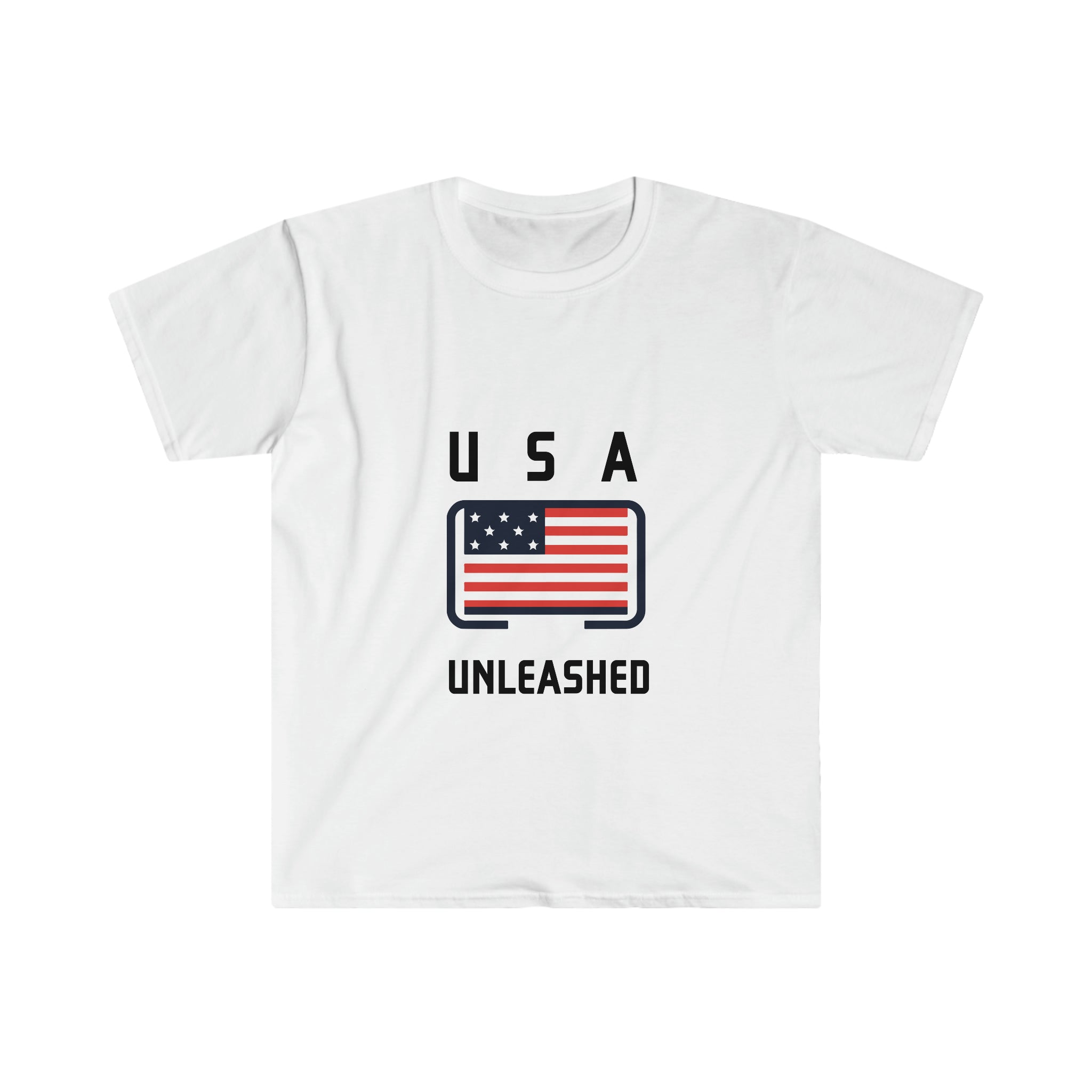 4th of July Shirt - USA Unleashed Unisex Design
---
The unisex soft-style t-shirt puts a new spin on casual comfort. Made from very soft materials, this tee is 100% cotton for solid colors. Heather colors and sports grey include polyester. The shoulders have twill tape for improved durability. There are no side seams. The collar is made with ribbed knitting to prevent curling damage.

.: 100% ring-spun cotton (fiber content may vary for different colors)
.: Light fabric (4.5 oz/yd² (153 g/m²))
.: Eurofit
.: Tear-away label
.: Runs true to size

Evolve Elixir is an all-in-one weight loss multivitamin that allows your body move along with your journey leaving out of sight tiredness, hunger, crashes, poor fitness performance, and hair loss in the process.

+ Fills gaps in most weight loss diet plans

+ Unbeatable energy and focus

+ Boost metabolism

+ Maintains hormonal balance

+ Reduces cravings and diet crash

+ Reduces hunger

+ Reduces stress eating

+ Reduces hair loss and promotes hair re-growth

+ Ideal for those with MTHFR & PCOS

+ Ideal after weight loss surgery
Take 3 capsules/day with or without food either at once or in separate dosis throughout the day.
Evolve Elixir is an all-in-one weight loss multivitamin that allows your body move along with your journey leaving out of sight tiredness, hunger, crashes, poor fitness performance, and hair loss in the process.
+ Fills gaps in most weight loss diet plans
+ Unbeatable energy and focus
+ Boost metabolism
+ Maintains hormonal balance
+ Reduces cravings and diet crash
+ Reduces hunger
+ Reduces stress eating
+ Reduces hair loss and promotes hair re-growth
+ Ideal for those with MTHFR & PCOS
+ Ideal after weight loss surgery
Take 3 capsules/day with or without food either at once or in separate dosis throughout the day.
FAQ's
Is Evolve Elixir right for you?
Is Evolve Elixir ideal for me?

Evolve Elixir is ideal for those engaging in diet plans that are restrictive in nature either as a long-term wellness approach, as means for weight loss, or to manage a medical condition.

Limited diets can mean eliminating certain food groups, food quantity, restricting meal time, or any combination. Common diet plans that restrict specific food groups include ketogenic, vegetarian, gluten free, and dairy free.

Food quantity could be a personal choice to engage in portion control, after bariatric surgery, or placement of a gastric balloon. Time restricting plans are those following a detox diet plan, intermittent fasting, a long term fasting that lasts 24-48hrs, or autophagy.

Evolve Elixir is also ideal for customers engaging in fitness activities as nutrient needs for muscle recovery are a must.
Is Evolve Elixir suitable for men and women?

Yes, the Evolve Elixir is a compete multivitamin supplement for both men and women 18 years and older.
Is Evolve Elixir suitable for children?

Evolve Elixir is only suitable for children 8 years and older who had weight loss surgery. We are proud to offer a supplement that fits their unique needs and partnered with many children hospitals offering bariatric surgery. Otherwise, teenagers 18 years and older are suitable to use Evolve Elixir as their daily multivitamin regimen. Always discuss with your healthcare professional.
Can I get the same nutrients from a balanced diet?

Evolve Elixir formula includes ingredients that cannot be found in effective amounts through food alone given modern lifestyles, personal beliefs about wellness and longevity, after weight loss surgery or in the management of a medical condition.

Trust Evolve Elixir to be your daily multivitamin supplement routine that takes your health to the highest level.
Does Evolve Elixir have any amino acids?

Yes, L-citrulline is an amino acid, a component of proteins. Your kidneys change L-citrulline into another amino acid called L-arginine as well as produces nitric oxide. They are important to your heart, blood vessel, and boost your immune system. L-citrulline is also a safe option to ease symptoms of mild-to-moderate ED and supports an active lifestyle.
Can I take Evolve Elixir with prescription medications?

Yes, Evolve Elixir is safe to take with prescription medications. Our custom supplement provide your body with maximum nourishment to help reach a lean body and meet your fitness goals, fight disease, and restore your body in times of illness.

Scientific evidence shows Vitamin K interacts with some prescription medications, reason is not included in our formulation. We always recommend to consult your healthcare provider before starting any new supplement regimen.
Will I experience any side effects?

Evolve Elixir is not a medication, it's a supplement that does not elicit side effects. We have specifically selected powerful ingredients based on safety and science-based efficacy that promotes un-deviated energy without jitters. We have formulated our supplement caffeine free for that reason.
Will I see changes in the color of my urine?

Yes, the color of your urine may have a dark yellow color or bright neon yellow color and there is nothing to worry about. This is normal when taking supplements and is the result of excess B vitamins being excreted.

The yellow urine doesn't mean you aren't absorbing them but a clever way of maintaining homeostasis. The neon color comes from Vitamin B2, which contains flavins, a naturally occurring bright yellow pigment.

Vitamins A, D, E, K are fat-soluble and others are water-soluble such as all B vitamins and vitamin C. The fat-soluble vitamins can be stored in your body for future use but the water-soluble vitamins can't, which means that excess you don't need will be excreted in your urine on a daily basis.
Can I take Evolve Elixir after weight loss surgery?

Yes, Evolve Elixir exceeds ASMBS guidelines after bariatric surgery. In addition to meet bariatric specifications, it stands out from other bariatric multivitamins since it contains methylated B vitamins, which are the best absorbable form important to prevent B12 and Thiamin deficiency. It also contains Ferrochel Iron different from any other bariatric brand. In addition, no other bariatric multivitamin contains our unique whole foods blend that fights tiredness and sluggish feeling while on rapid weight loss. Trust Evolve Elixir in your weight loss journey if you are planning or had weight loss surgery.
This product has no reviews yet.